STAKKAbox™ JMF is a range of modular and structural preformed access chambers that provide a modern alternative to traditionally brick-built chambers. This system provides contractors with a means of constructing access chambers safely, quickly, and inexpensively while offering superior build quality, reduced defects, and enhanced site safety performance over traditional methods.
STAKKAbox™ JMF is designed for use within the telecommunications market and is available in 102, 104, and 106 sizes.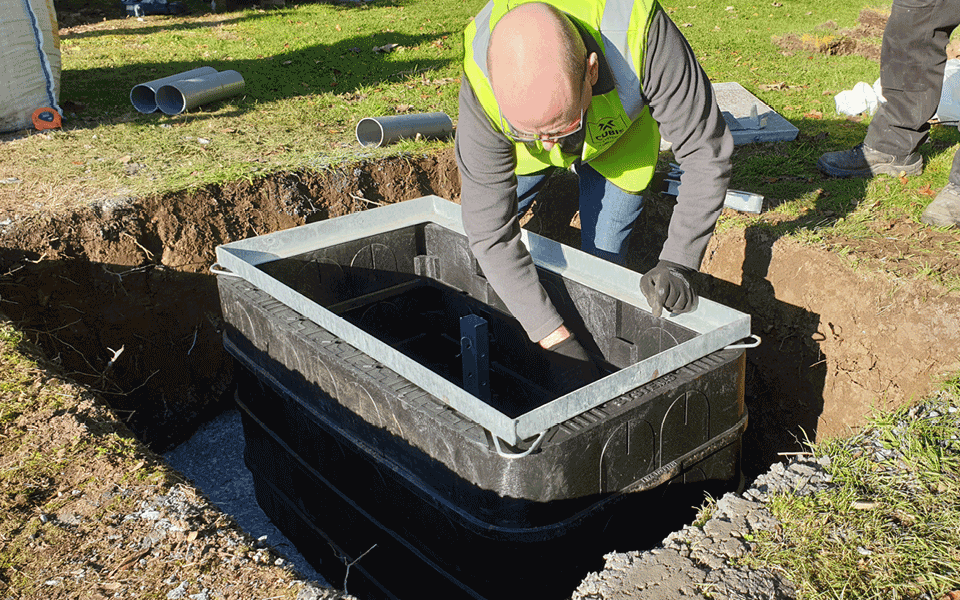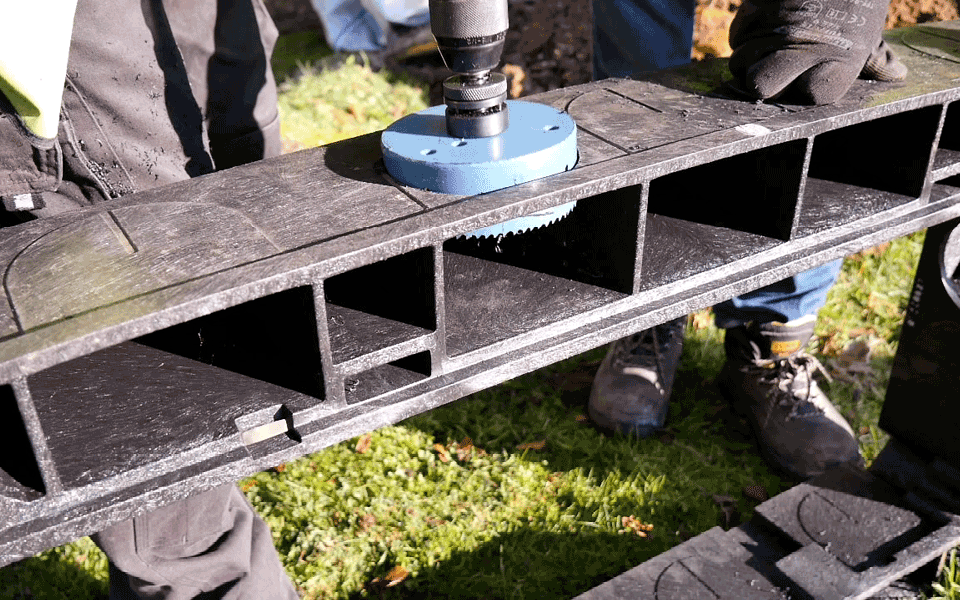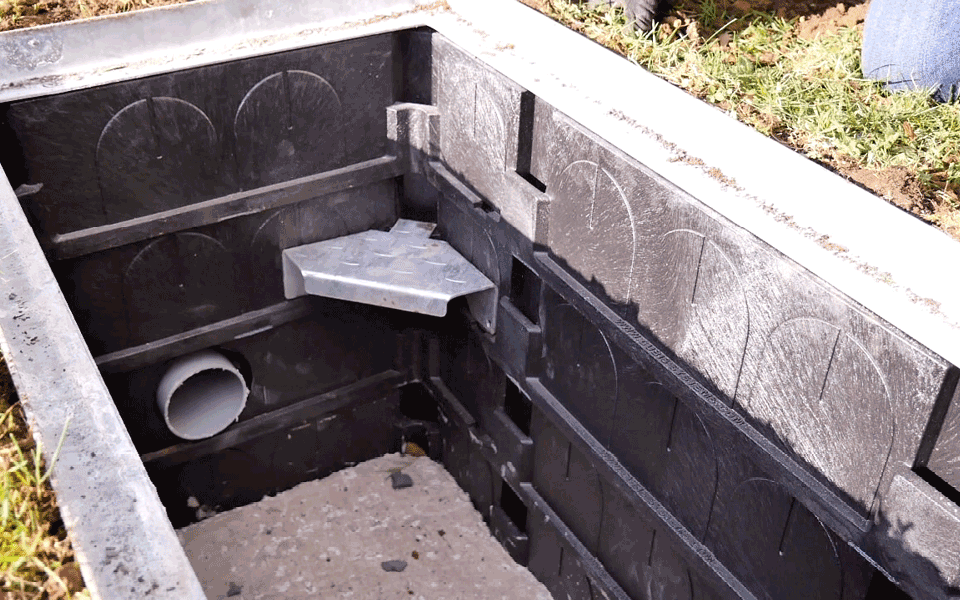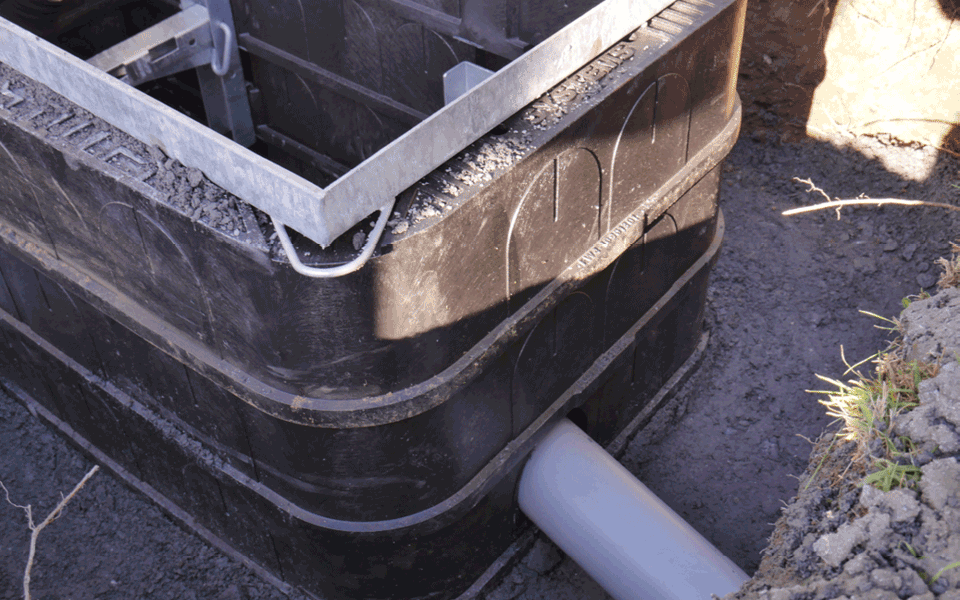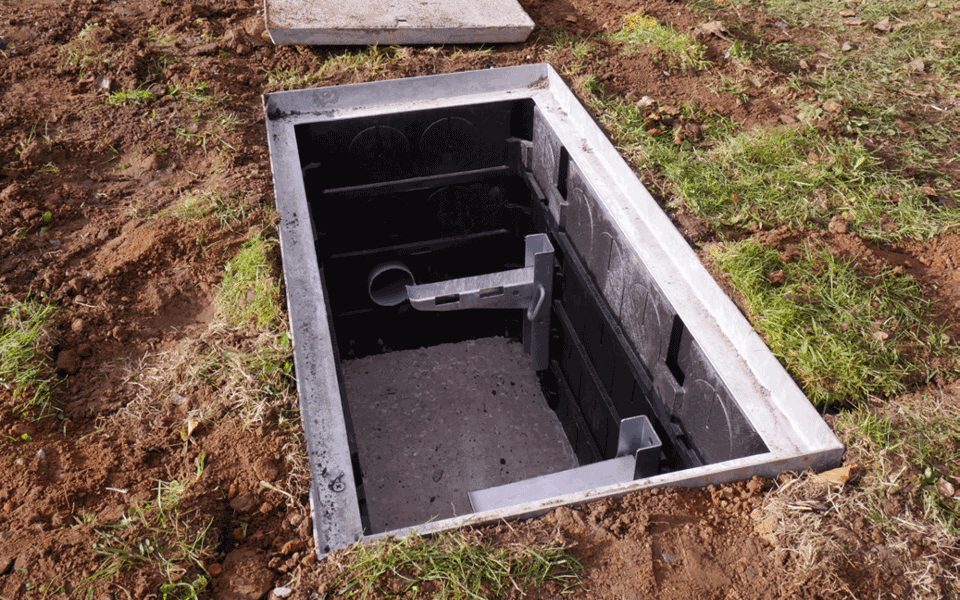 Features & Benefits
Fast and Easy to Install
STAKKAbox™ chambers are significantly faster to install than conventional alternatives, with complete installations typically taking less than one hour. This results in reduced costs for the installer. No specialist equipment or plant is required in order to install the chamber and there is no need for specialist box builders.
Sectional & Twin Wall Design
Chambers are built to required depth by adding 150mm sections. Due to the twin wall design, individual sections are light meaning they can be manually lifted. Each access chamber possesses vertical and horizontal ribs, resulting in a product that is strong vertically and on the sidewall. STAKKAbox™ JMF does not require specialist backfills, reducing installation costs.
Smooth Outer Walls with Lip to 'Key In'
Gaps in the outer wall will negatively impact the effectiveness of compaction around the chamber. STAKKAbox™ chambers have smooth outer walls and an outer lip which keys into the backfill.
Flexible During Installation
Chambers can be adapted to suit on-site conditions with standard tools to overbuild over existing networks, Introduce duct entries for cable entry and for top-section fine adjustment.
Drop-in Furniture & Steps
Cable management and steps are fitted by dropping the accessories into pre-formed pockets. These allow accessories to be retrofitted after installation without mechanical fixing.
Meets Openreach Quality Requirements
Openreach checks all chambers against 13 step Quality Checklist for its brick, concrete and joint boxes. When using STAKKAbox™ JMF, this checklist is reduced to 8 checks.
'NEW' Ring Section Design
Pioneering chamber design that incorporates a custom textured tread pattern to increase mortar grip between the frame and chamber section, reducing lateral movement. Recessed locator grout bars provide a positive frame location, reducing frame movement.
All Weather Construction
Unlike with brick and concrete built chambers where freezing temperatures and heavy rain can stop work the JMF can be installed in all types of weather.
How it's Built
Lightweight 150mm deep sections are stacked on top of each other on a Type 1 base to the desired depth. With no requirement for lifting plant or skilled box builders when building chambers, ring sections can be cut to bridge over or around existing networks or obstacles, making the STAKKAbox™ JMF the ideal all-round chamber system.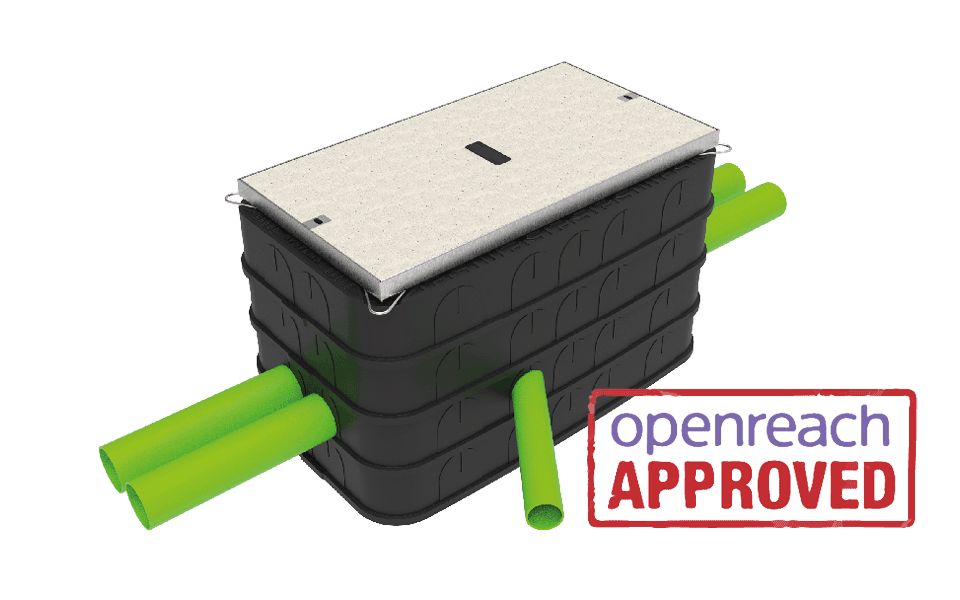 'NEW' JMF vs Quad
The new STAKKAbox™ JMF has been designed and developed to provide an enhanced all-round telecom network access chamber system compared with the Quad box.
Its design has been specifically tailored to meet the requirements of installation teams installing the system in a wider range of environments. For further information, visit our FAQ section.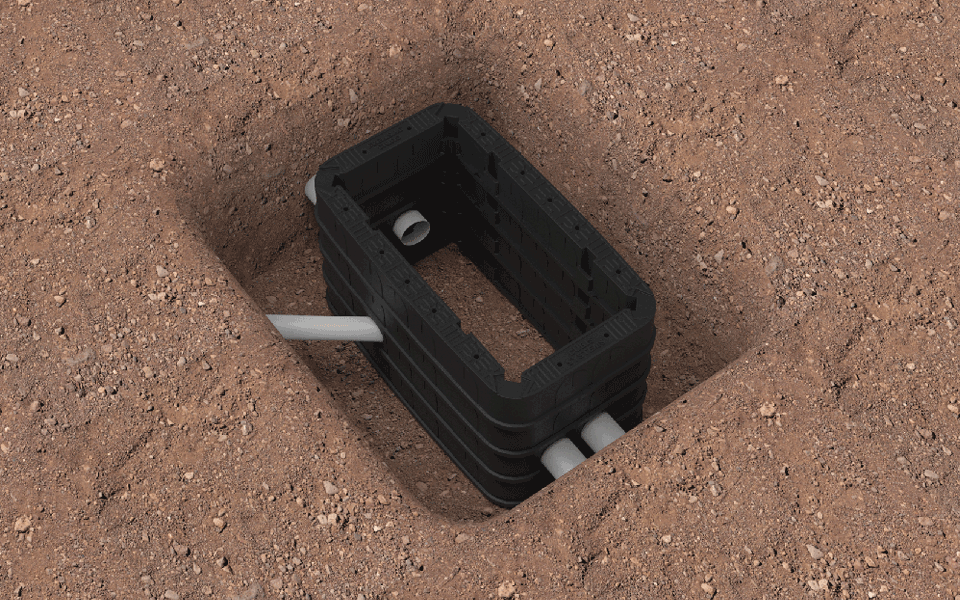 Materials
STAKKAbox™ JMF is manufactured from nitrogen-foamed High Density Polyethylene (HDPE), of which up to 90% is recycled material.
HDPE possesses excellent strength to weight properties, and its twinwall design gives it strength while being lightweight for ease of manual handling and installation.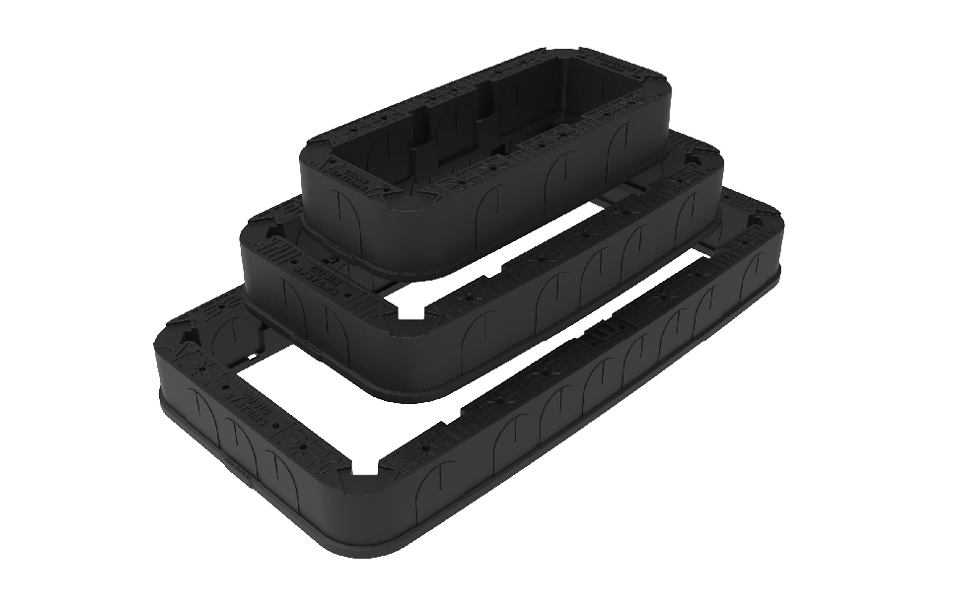 Available Sizes
STAKKAbox™ JMF is a modular access chamber available in three sizes: 102, 104, and 106.
All chambers are available with B125 access covers and Cubis' range of chamber accessories for safe access and cable management. Download our product size guide for chambers in order to gain more information on available sizes.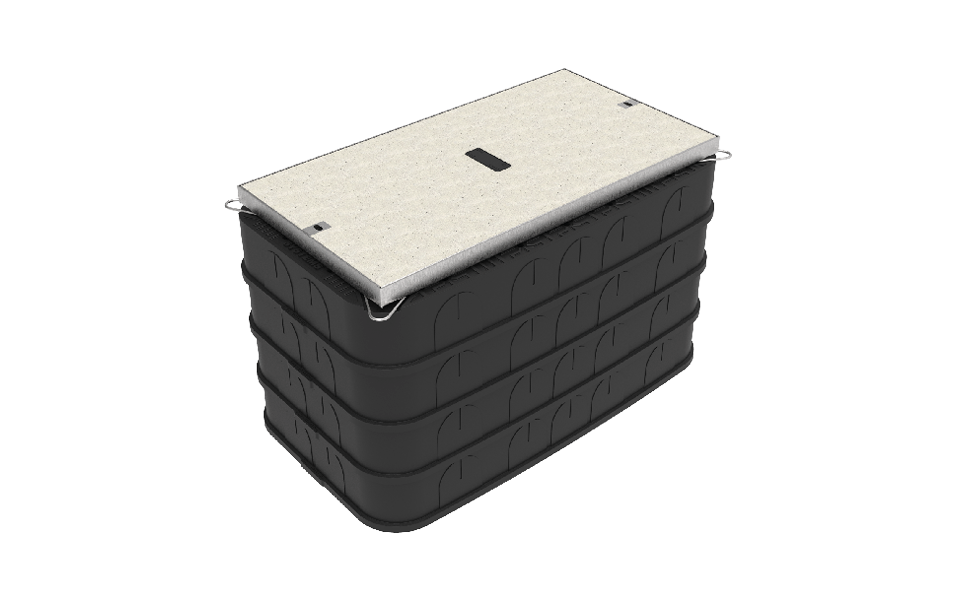 Load Rating
STAKKAbox™ JMF has been extensively tested to ensure that it meets the loading requirements up to B125 in a variety of installation environments.
The loadings match the vertical loading categories recognized by EN124 gully tops and access tops for vehicular and pedestrian users.